There are a number of music fans who are now turning to streaming services such as Spotify, Pandora, and Apple Music to enjoy radio-style programming. In the digital age, everything is just a few clicks away. We can manage everything with ease now. There are so many amazing online radio stations available to make your experience musically rich. Instead of choosing a streaming service, tune with the online station for a magical feel.
Most Popular Online Radio Stations
Finding a great online radio station is not a tedious work. You can easily get the station where you'll actually enjoy the music. Here are the glimpses of the finest and popular online radio stations:
FM KXRY 107.1 FM (Portland, OR): It is one of the most popular online radio station that serves up the best music sounds. It was formed in the year of 2012 and also known as the crowdfunded station. The XRAY online radio station offers a huge variety of music to choose from. There are around 70 part-timers to entertain you through the fabulous music and soundtracks.
Dublab (Los Angeles, CA): It is an internet-only radio station that broadcasts the cutting edge of the universe DJ's 5 days in a single week. Dubland also offers the facility of download through its official website. You can download the live show during the weekend when the Dubland isnot live. There are so many good reasons behind the popularity of this amazing online radio station. It is considered as the best streams by the fans to get interesting musical beats.
WWOZ 90.7 FM (New Orleans, LA): WWOZ provides the best sounds. The amazing online radio station showcases the New Orleans famed jazz, bounce, soul and R&B every day. This online radio station is a paradise for those who want to enjoy the jazz tradition as they can get a huge selection of the jazz convention only. The beautiful tradition is still alive and beautifully delivered by the WWOZ FM in the city. WWOZ is offering a fabulous look inside of the jazz.
KUSF 90.3 FM (San Francisco, CA): If you want to explore the best sounds of the Bay area, then tune into the KUSF online radio station. It is owned by the University of San Francisco. You will get the most extreme combination of different sounds at this station. The KUSF is popular for their warm-weather stuff. This season, you can switch to the KUSF FM to listen the finest and smoothest tunes.
WFMU 91.1 FM (Jersey City, NJ): WFMU is known as the granddaddy to all online radio stations. It is the oldest-running and independent radio station in the United States. There is a huge collection of eclectic shows available for the listeners. WFMU has something for every listener. You can tune this fabulous radio station to get the finest musical beats online.
Due to technical era, everything is easily accessible. When it comes to streaming services, online radio stations are also not far away at all. They have everything that can engage a listener strongly. Try these fantastic and powerful online radio stations to set up your musical tunes.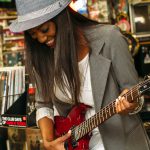 Hi, I'm an avid music fan and I've always loved music since I was 5 years old. I think I wanted to become a musician at some point in life but that is a story for another day. At 10 years I had this urge of having my favourite artiste's album every time they released one and boy was it hard.