What other alternatives do I have other than Spotify?
When it comes to streaming music on your pc, Spotify is usually a likely choice. However, some people may not be satisfied with the quality or coverage of the site in their area or its monthly pricing. Luckily, there are other alternatives to Spotify such as Deezer, Google Play All Access, Last.fm, Pandora radio and Stereomood among others. Some of these sites have a free plan whereas some are relatively cheaper than Spotify.
What are some of the most popular internet radio stations?
Welcome to the world of internet radio stations. There are tons of radio stations around the world and one can have a hard time getting to choose which one to listen to. Some of the best radio stations include; CKUT, Fip, TRP and Radio DePaul. The list may not be exhaustive; however, as a rule of thumb, it is always advisable to get a radio station with less Dj banter and more music play. At the end of the day, it's the music that attracted you there and not endless talk. There are also different radio stations for different age groups, music genres, online content (sports analysis or speeches) etc. that can be found online.
How much bandwidth do I need to stream internet radio stations?
This generally depends on the music streaming site that you are using considering that music can be a large data consumer. A site like Spotify has different bandwidth options such as 96kbps-320kbps which translates to 0.72 MB per minute to 2.4 MB per minute. From this it can be obvious that a lot of bandwidth is needed when it comes to online streaming. A good way to manoeuvre through this is by changing your cache size to 100 GB. This enables you to keep the internet requirements down as it allows more music content to be cached. Some services also allow you to listen to music when you are offline.
Do I need broadband or dial up internet connection for streaming internet radio stations?
In as much as many internet radio stations can stream music even on a dial up connection, a broadband internet connection is usually advised. This is because it allows you to receive high quality transmissions on your pc that are near CD quality. You should also look at the download rates of your broadband connection in order for you to know the kind of speeds that you will be enjoying while streaming online.
How do internet radio stations work?
Internet radio stations are of two types, those that are online and don't require any extension downloads and those that require extension downloads to your existing media player. Online internet radio stations and streaming sites can be accessed online whenever you want to listen to a radio station. As for those that require extension downloads, once the extension has been installed to the existing media player, it will enable your media player to stream and buffer online radio stations and you don't have to be online in order to use it (however, an internet connection is necessary).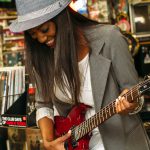 Hi, I'm an avid music fan and I've always loved music since I was 5 years old. I think I wanted to become a musician at some point in life but that is a story for another day. At 10 years I had this urge of having my favourite artiste's album every time they released one and boy was it hard.