Are you fond of music and your free streaming services of Spotify comes to an end? If yes, then you have to start your search to get the best alternatives. Usually, Spotify offers the 6-months of free subscription. After that, you have to switch Premium and Unlimited services. Spotify also gives the unlimited access to the huge musical library which has around 15 million tracks. It is one of the most attractive features that every Spotify users love. There are a number of online platforms available those have the finest streaming services.
Topmost And Most Popular Alternatives To Spotify Ever
We are in the digital age, so everything is easily accessible. Likewise, there are so many websites and applications are available that acts as an alternative to Spotify. These are as follows:
Rdio: It is an amazing desktop-based music streaming application. It allows the new users to get on-demand and ad-free music streaming. Rdio has a music library of around 12 million songs. A user can listen, download or share his favorite song through this fantastic platform. It is a bit different from the Spotify. A user can enjoy the non-stop favorite tracks while Spotify features some ads in between the soundtracks. The platform is available for the users of iPhone, iPad, iPod, Windows 7, Blackberry devices and Android 1.6 users.
GrooveShark: It is a popular musical platform to discover the new music. There are more than 30 million users of this application worldwide. Amazing features of GrooveShark include the options of sharing the playlist or songs with friends on different social media channels like Facebook, Reddit, Twitter and so on. Other fabulous capabilities of this platform include uploading and radio-streaming and even there is no limit for the free accounts. The best part of using GrooveShark is that you will get the suggestions as per your choices and preferences. You will get a library of 7 million songs here. It is compatible with Android, Blackberry, and iPhone devices.
MOG FreePlay: It is a free version to check out your favorite songs, artists, and bands. It is similar to Spotify in many ways. MOG FreePlay provides free streaming for your favorite music. But, you will also get the ads in between. There is an advantage for the new users. They can listen the MOG FreePlay without the unnecessary ad-breaks for the 60 days. Through Facebook account,you can log-inand share songs/playlists with your friends. You will also get the recommendations based on your choices of artists, bands, and genres that you have subscribed or Liked on the Facebook.
You can also earn some points by inviting friends to join and use MOG. By gaining more points, you will have a chance to get more free music every month. Here at MOG FreePlay, you will get a library of around 13 million songs. It is accessible through the Primo plan for Android, iPhone, and iPod users.
People are fond of Spotify. But, there are so many websites and applications available where they can enjoy the same services. After their free subscriptions, they can stick to one of the above-mentioned platforms to enjoy the unlimited music.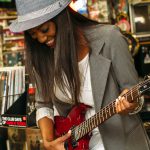 Hi, I'm an avid music fan and I've always loved music since I was 5 years old. I think I wanted to become a musician at some point in life but that is a story for another day. At 10 years I had this urge of having my favourite artiste's album every time they released one and boy was it hard.