Sales of self-help books are staggering and the appetite for any empowering content is on the up and up. Some of the books are available as audio books and an increasing number of people are listening to self-help books while out running, in the car or while doing some chores. Podcasts recorded by therapists, healers, life coaches, business experts, psychologists, self-help gurus, counselors, trainers and motivators are being downloaded by their thousands every minute of every day. It comes as no surprise that some have chosen to set up internet and terrestrial radio stations with the sole intent of broadcasting what is often called empowering content. These radio stations have been extremely successful in attracting large audiences and listeners worldwide reap the benefits of listening to people speak about ways to improve one's life. In essence, some of the broadcasts could be considered anything from an inspirational talk, counselling session, meditative hour, healing therapy to sound business tutorial, live lesson and much more. People worldwide are tuning into these stations to learn how to improve their lives, and they are doing so in their thousands.
If you are on the lookout for such content, check out some of the networks and radio stations below:
 Sedona Talk Radio
Broadcasting on topics like spirituality, alternative medicine, holistic health and personal growth, Sedona Talk Radio broadcast live and recorded shows and interviews. The people of Sedona Talk Radio are proud to say that they have reached listeners in over 110 countries worldwide and their broadcasts are said to inspire and empower and bring happiness.
 Dimension 1111
The shows on Dimension 1111 focus on alternative topics such as the paranormal, spirituality, metaphysics, new age, alternative health, self help,  mysticism, mythology, cosmology,mind/body health and survivalism. The network brings on scientists, researchers, authors, theologists and spiritual teachers to speak on such topics. Callers can contact the programs, ask questions live on air and receive expert advice.
 Transformation Talk Radio
Transformation Talk Radio brings together a plethora of experts in the fields of psychology, spirituality, coaching, business, natural health, hypnosis, counselling, empowerment, self realisation, dream interpretation, energy healing and much more. The network's mission is to make empowering talk radio mainstream and reach millions of people worldwide with expert advice on how to live better and more fulfilled lives. All the shows broadcast are available as podcasts for you to listen to whenever it suits you best.
Listening to these station can be a little like therapy and many have found these stations as a great source of help, support and advice. All of the stations endeavor to create positive radio broadcasting content as an alternative to the tough daily news channels. In the hope of providing quality education, inspiration, support and empowerment, these stations continually seek new contributors and strive to broadcast only the best self-help content.
If you feel like you need some guidance, advice, support or if you just like to hear more about all things empowerment, these station will provide you with expert opinion, education and advice and listening to these station has been a great source of comfort to many listeners all over the world.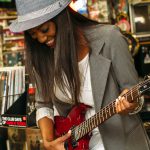 Hi, I'm an avid music fan and I've always loved music since I was 5 years old. I think I wanted to become a musician at some point in life but that is a story for another day. At 10 years I had this urge of having my favourite artiste's album every time they released one and boy was it hard.