While streaming music sites are proliferating on the world wide web, radio sites, on the other hand,  are rare to be found. Unlike music streaming platforms, digital radios allow you to sit back, relax and enjoy the music that you adore. These sites are the perfect solution for you on days when you only want to listen to some good music, rather than play the DJ.
Let's take a look at the top-of-the-lot, the best 5 internet radio services.
Soma.fm
Long before internet music streaming sites gained ground, the Soma.fm had been broadcasting live music since 2000. This digital radio station is user-friendly and this means you are not disturbed by any unwanted commercials. On Soma.fm, you will find unique channels that are unheard of anywhere else on the web. The mobile app is available for download on Android as well as iOS. It is compatible with almost all types of mobile devices available today in the market these days.
TuneIn
This fantastic internet radio service allows you to listen to live radio from around the globe, no matter where you are. Be it an electronic station from a European station that fancies you, or a talk show from Asia that you want to hear- with TuneIn you can search radio stations from across the globe through filters such  as the location, genre, etc. The mobile app is available for iPhone, iPad,  Windows Phone, Blackberry, WebOS and more.
Pandora
Pandora is the digital radio platform that delivers the best music from the genre that you enjoy. All you need to do is feed in the names of your favorite artists and songs, and Pandora will let you enjoy similar songs. The free mobile app is available for iOS, WebOS, Android as well as  the Blackberry.
Slacker
Taking personalization to all new levels of height, the Slacker Radio features hundreds of channels based on different genres. The playlists are curated by renowned DJ's who know their music. You have the option to personalize the playlist, further, according to your own interests by providing appropriate feedback. The mobile apps are available for all mobile operating systems. You have the choice to either enjoy the ad-supported yet free Slacker, or you can dole out $4 per month for the Slacker Plus.
Spotify
Spotify may have become famous for being a comprehensive music player, search tool as well as a jukebox, yet the digitally aware would know that it also boasts some great radio features. These are in the form of collaborative, interactive and shareable playlists that can be subscribed to. With the radio service, you can play and listen to songs based on the genre or music artist. Spotify is free for the ad-supported version, while you can update to the Spotify Premium at $10 per month.
Well, that was the list of 5 best digital radio services that are sure to keep you entertained with the best music playing. Look around the web, and you will certainly find some more genre specific platforms to meet your  needs.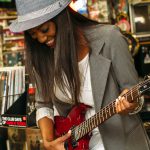 Hi, I'm an avid music fan and I've always loved music since I was 5 years old. I think I wanted to become a musician at some point in life but that is a story for another day. At 10 years I had this urge of having my favourite artiste's album every time they released one and boy was it hard.